Now is the time to act, readers!
Join in the epic battle to save Dr. Garlic! I need your help … to build a vehicle. That's right: The Heroica League's team of heroic microfigures needs cars, planes, even hoverpads (if that's what it takes); any type of transportation you guys are able to imagine for their rescue mission.
We've planned a great strategy for actually getting into the maniacal mummy king's pyramid hideout (and breaking Dr. Garlic out of prison), but were at a loss of how to get the team there.
That's why I'm holding a vehicle-building contest! The fate of Dr. Garlic rests in very capable hands. Here's the details: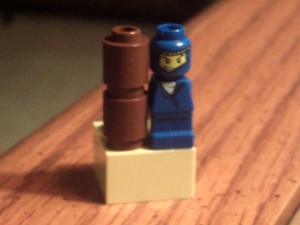 Deadline: Wednesday, December 7th 2011.
How to Enter: Send me an e-mail with a picture of your vehicle attached. If the pieces are not all visible in one picture, please attach a second with all the elements laid out on a flat surface. (Think table.)
Additional Details: A microfigure takes up as much space as two 1×1 bricks stacked on top of each other. The vehicle must seat at least one microfigure. Two entries per contestant.
Ya gotta be quick — Ramses might find out about the rescue mission if we're slow!
Thanks for reading — now go and build!