Although I haven't really had time to write about this until now, I had the opportunity to go to the grand opening of the new LEGO store at North Star Mall last week!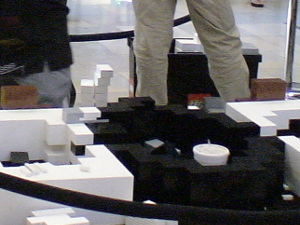 One of the main events during the fun-filled three days was the construction of an 8-foot-tall R2-D2 model.
Basically you just build large blocks of LEGO bricks four times the size of normal 2×4 bricks and give 'em to the assembly dudes. I think I built about 45 or so of those blocks during the two days I visited the LEGO Store.
I got to meet LEGO Master Builder Steve Gerling, who was in charge of the assembly of R2-D2. He even autographed the certificate I got for helping, and my brother John and I got to take a picture with him and a smaller Artoo.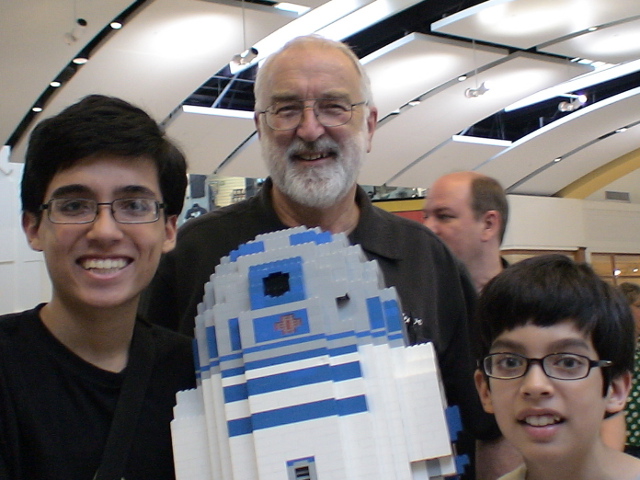 We got quite a few sets there, including the Ninjago sets Temple of Light, Ultrasonic Raider, and Cole's Earth Driller. We got some cool minifigure parts from the Build a Mini tower (turns out you don't need whole minifigs, just 15 elements in total), which I expect I'll be putting to good use shortly. Our dad also got us the awesome LEGO Kingdoms chess set, so John and I–the chess aficionados of the family–have been playing some intense games lately.
Well, thanks for reading! I must leave now to prepare to (hopefully) take down John in the fifth game in a best-of-five chess showdown! He has actually gotten pretty good, so I'm a little scared. It's just that I'm too young to die! ;(
Be sure to leave your comments below, and I'll see ya'll next post!