Howdy, readers.
Be warned: This is not a Dr. Garlic post. If you only come here to read of Dr. Garlic's adventures, then this post might be very boring for you.
Today I am going to mention something very important in my life. After living in China for almost three and a half years, my family and I are going to return to Texas. I have packed up most of my belongings, including the large-ish LEGO collection of my siblings' and mine.
I think it's a good thing that I've been so busy as we're getting ready to leave. Of course, I've been able to spend time with others, but between packing, cleaning, and History 1302 (that's college-speak for schoolwork), I have not had much time to think about just how much I'll miss it here.
Now, I am excited to be returning to America, especially since I'll be starting my freshman year of college this fall. However, I have made a lot of great friends here who I wish I could just stuff into my luggage and bring back with me. (I'm looking at you, Harry!)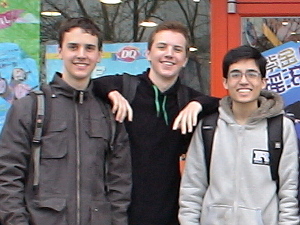 Fortunately in this age of the internet it will be relatively easy to stay in touch with most people, but that doesn't mean I'm not going to miss them. For example, I went on a several-mile-long bike trip the other day with a bunch of friends (don't mistake that for some kind of healthy exercise thing–we biked to Dairy Queen after all), and I'll miss being able to do that sort of thing when I'm gone.
Overall, I think leaving is bittersweet. I have attended countless goodbye parties for others, but on Wednesday I attended one for my family and, well, myself. I suppose it just felt very strange to me. Just being there, I was reminded continually that "Wow, we really are leaving."
Anyway, I suppose I'll mention my nifty new blog theme. I built it off the Underscores theme, and I can finally do whatever I want to my blog's styling! I suppose I'll be trying out Image or Link posts sometime soon!
Well, if you read this whole awesome post, I'd like to congratulate you! Hope I didn't make you too sleepy there; be sure to leave yer comments below.