Hello everyone,
This is Julianne writing.  I am Peter's younger sister, and I will be writing to forward all news of Dr. Garlic's older sister, Alecia Garlic.  She is two years and three months older than him, and, as a concerned and responsible older sister, she has made up her mind to pay Typhon a visit!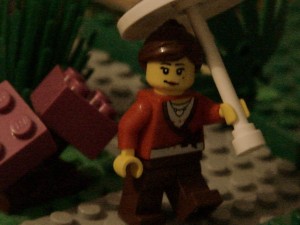 In this picture, Alecia is strolling through her elegant gardens.  Strolling, however, is tiresome business.  That is why she has managed to get her hands on a coupon that allows her to take any first-class seat on any plane, belonging to any airline company, headed to any country!  Finding Dr. Garlic will surely be convenient and comfortable.
During her travels, she will keep me up-to-date on what she's experiencing by e-mailing me the entries she writes in her nifty electronic diary.  Here is the first:
Wednesday, the tenth of April, Year 2013 A.D.

My brother Typhon has been gone on his 'Adventure Through the Aether' for quite some time now.  Since he never was too good at keeping track of himself, I expect his situation has been deteriorating steadily.

It is very important that I make this visit in order to get him back on his feet.  To ensure that I get there and that he tells me his genuine location, I told him that I had chartered a plane.  He wouldn't dare to give me a false location knowing I had spent that amount of money on the visit!

Anyway, I will probably be seeing him within a week or two.
Well, that's all for now.  If you have any comments about this post or advice for Alecia, put 'em in the comments section and I'll make sure that they get to her!